Saturday, October 23, 2004
Ok, I'm going to keep this short because I had a big long entry typed out and lost it all when AOL crashed on me ... so ...
... the main gist of it all is that I'm almost ready for next weekend. Some of Ian's coat is done, and when it is I'll post photos of his outfit, but for now, here is mine. Please bear in mind that I'm really blonde with blue eyes! LOL Yes, my brown lenses came today! The headpiece my sister bought for me. All that's missing I think is the typical Gothic makeup and the black fingernails! I even managed to get some comfortable boots today! Yay!
Ok, here they are.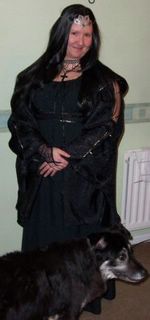 2 Comments:
2:08 pm

 

Wow!!! you look fantastic! I love the cross thing around your neck and the whole outfit is fabbo!!! I bet you'll look so cool with all the make up and everything! Hurray!! I wish I could make goth clothes too....

Lisa said...

2:09 pm

 

Thank you, Amy. :-) I bought the choker with the cross on Ebay ... surprise surprise! (like the gratuitous Cilla impersonation?!) I also bought the sewing patterns on Ebay, and the make-up, contact lenses, gloves, and earrings. LOL I love Ebay! ~ Lisa